This pattern is not a new one but I have noticed lots of questions lately asking for good men's hoodie patterns, so I decided if it was something people were wondering about, I'd write a blog post about my favourite. I love Made by Jack's Mum children's patterns and this adult pattern is no different! It was perfect the first, and last time I made it. When you buy the Hot Coffee pattern it comes with both the men's and the women's versions of the pattern. You can also buy a bundled package that includes sizes for everyone (premie to adult 5XL). I personally own the package because I really do love this pattern.
I first decided to make these at Christmas time when I was thinking of sewn gifts for my husband and my father. My father lives a 5 hour drive away so I had my mother take his measurements and used the size his measurements fell into (which was an exact size, lucky for me). I took my husband's measurements as well and he fell into the same size as my dad but his chest area was a size bigger. Knowing that hoodies are typically a generous fit I opted to just use the same straight size for him as for my dad.
Both fit perfectly! My husband is hard to please when it comes to his clothes. He gets overly worked up when he can no longer buy a certain brand/make that he's been buying for the last 10 years, so I don't often make him clothes… if you can imagine that! He approved the Hot Coffee hoodie though, much to my surprise.
I used Bamboo French Terry from Water Tower Textiles and ribbing for the bands. It makes a nice, comfortable, high quality hoodie. The Bamboo fabric is breathable but still warm, in a comfortable way. Once you sew with it you may not want to use anything else ever again haha. 
I also made one for my teenage cousin, he fit into the smallest men's size. His mum gave me his measurements and I sewed the size he fell into. Again, it fit perfectly!
The hood construction is super neat! That's one thing I find about the designer behind MBJM, she always comes up with the neatest little things. She also has a pocket design that is a favourite of mine you can find here and here. The hood is a self-lined hood. You need to be careful when you cut it out… I may have cut it wrong twice haha, but if you just follow the instructions (don't be like me), it isn't difficult. Then you sew through 4 layers, which creates the hood. When sewing through those 4 layers, especially if your using a thick material you will notice that you'll end up with a wavy sewn edge.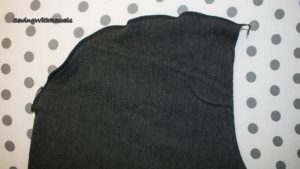 All you need to do though is give a good steam press with your iron. Steam is the key so turn that baby up 😉 (if you have different steam level settings on your iron). Just make sure you don't do this with a fabric that can't handle a hot iron, like fleece. You'll end up with an impression of your iron permanently in your fabric and a nice mess on your sole plate… really not very nice, trust me!
I will be honest and say that I don't like the fit of the women's version near as much as I do the men's. I have made two of the women's and found them too large when picking a size based on body measurements. The arms are very, very long. Like, I would have to take off about 4″ to get the right fit on my arms. And it's much bulkier/looser fitting than the men's. I am guessing that it would be a very simple fix but I haven't attempted it just yet. When I do I will update this post. I plan to just size down one and shorten the arm length.
Make sure you check out the other patterns from Made by Jack's Mum. Also if your a Canadian make sure you check out Water Tower Textiles Canada. They have an ever growing supply of knits and a wide variety of notions and many other things. It is where I get 90% of the fabrics and other supplies I use in my sewing.